Request Info


03 Jul 2023 - 06 Jul 2023 |

AZ-140: Configuring and Operating Microsoft Azure Virtual Desktop

03 Jul 2023 - 06 Jul 2023 |

AZ-140: Configuring and Operating Microsoft Azure Virtual Desktop

18 Sep 2023 - 21 Sep 2023 |

AZ-140: Configuring and Operating Microsoft Azure Virtual Desktop
Description
El presente curso enseña a los administradores de Azure cómo planificar, entregar y administrar experiencias de escritorio virtual y aplicaciones remotas, para cualquier dispositivo, en Azure.
Los candidatos aprenderán a través de una combinación de demostraciones y prácticas de laboratorio, implementando experiencias y aplicaciones de escritorio virtual en Azure Virtual Desktop y optimizándolas para que se ejecuten en entornos virtuales de sesiones múltiples.
Valor añadido de PUE
Con el objetivo de facilitar a nuestros alumnos los conocimientos previos recomendados por Microsoft para un correcto aprovechamiento de la presente formación se incluye, de manera totalmente gratuita en el coste del curso, el acceso al siguiente contenido oficial:
Además, si eres miembro del programa PUE Alumni, también tienes incluido de manera totalmente gratuita en el coste del curso, el acceso a:
También se ofrece de forma gratuita para los miembros de PUE Alumni, el acceso al Practice Test oficial de MeasureUp Configuring and Operating Microsoft Azure Virtual Desktop, una herramienta asociada a la presente acción formativa diseñada para que el alumno pueda ir acreditando sus conocimientos y realizar un adecuado seguimiento del curso.
PUE es Gold Partner de Microsoft autorizado por dicha multinacional para impartir formación oficial en sus tecnologías.
Audience and prerequisites
La presente formación está dirigida a aquellos perfiles interesados en la planificación, implementación, empaquetado, actualización y mantenimiento de una infraestructura de Azure Virtual Desktop.
Prerrequisitos
Para un mayor aprovechamiento del curso, es recomendable que el alumno comprenda los siguientes conceptos:
Tecnologías de virtualización en local (on-premise) como máquinas virtuales (VMs), redes virtuales y discos duros virtuales.
Configuración de redes incluyendo TCP/IP, sistema de nombres de dominio (DNS), redes privadas virtuales (VPN), firewalls y tecnologías de cifrado.
Active Directory y conceptos de Azure Active Directory como usuarios, grupos y controles de acceso basados en roles.
Resiliencia y recuperación ante desastres como copias de seguridad y operaciones de restauración.
Objectives
Una vez finalizado el curso el alumno habrá adquirido los siguientes conocimientos y habilidades:
Seleccionar un modelo de licencia adecuado para Azure Virtual Desktop
Implementar redes para Azure Virtual Desktop
Administrar hosts de sesión de Azure Virtual Desktop mediante Azure Bastion
Configurar almacenamiento para componentes FSLogix
Crear y administrar imágenes de session host
Implementar roles de Azure y control de acceso basado en roles (RBAC) para Azure Virtual Desktop
Configurar los ajustes de la experiencia de usuario de Azure Virtual Desktop
Instalar y configurar aplicaciones en un session host
Implementar la continuidad del negocio y la recuperación ante desastres
Supervisar y administrar el rendimiento de Azure Virtual Desktop
Certification included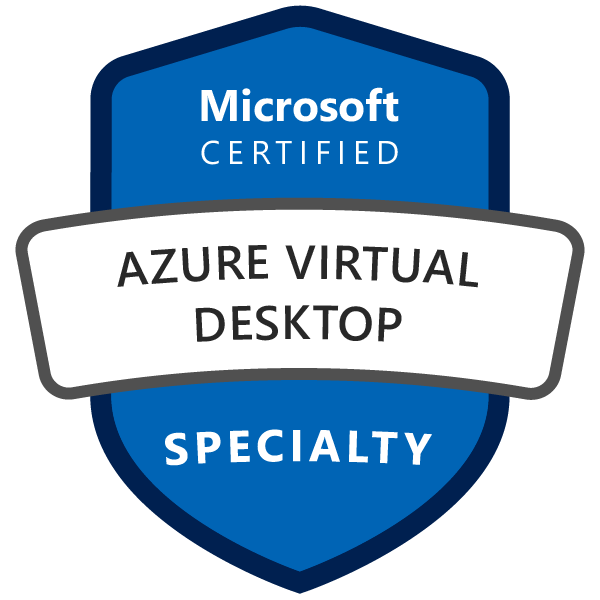 Este curso oficial es el recomendado por Microsoft para la preparación del siguiente examen de certificación oficial valorado en 245,63€ (IVA incl.), cuyo coste (una convocatoria) está incluido en el precio del curso a todos los miembros del programa PUE Alumni.
La superación de este examen es requisito imprescindible para obtener la certificación Microsoft Certified: Azure Virtual Desktop Specialty..
PUE es centro certificador oficial Pearson VUE facilitando la gestión del examen al candidato. El alumno podrá realizar su certificación, bien en nuestras instalaciones o, si lo prefiere, a través de la opción Online Proctored, que permite atender la certificación oficial de Microsoft desde cualquier ubicación con una simple conexión a internet.
Topics
Módulo 1: Planificación de una implementación de Azure Virtual Desktop
Arquitectura de Azure Virtual Desktop
Diseño de la arquitectura de Azure Virtual Desktop
Diseño de identidades y perfiles de usuario
Laboratorio: Preparación de una implementación de Azure Virtual Desktop (Azure AD DS)
Laboratorio: Preparación de una implementación de Azure Virtual Desktop (AD DS)
Módulo 2: Implementación de una infraestructura de Azure Virtual Desktop
Implementación y administración de redes de Azure Virtual Desktop
Implementación y administración de almacenamiento de Azure Virtual Desktop
Creación y configuración de grupos de hosts y hosts de sesión
Creación y administración de imágenes de session host
Laboratorio: Implementación de grupos de hosts y hosts de sesión mediante Azure Portal (AD DS)
Laboratorio: Implementación y administración del almacenamiento de Azure Virtual Desktop (Azure AD DS)
Laboratorio: Implementación de hosts y grupos de hosts mediante plantillas de Azure Resource Manager
Laboratorio: Implementación y administración de hosts y grupos de hosts mediante PowerShell
Laboratorio: Creación y configuración de grupos de hosts y hosts de sesión (Azure AD DS)
Módulo 3: Administración del acceso y la seguridad
Administración del acceso
Administrar seguridad
Laboratorio: Configuración de políticas de acceso condicional para conexiones a Azure Virtual Desktop (AD DS)
Módulo 4: Administración de aplicaciones y entornos de usuario
Implementación y administración de FSLogix
Configuración de la experiencia de usuario
Instalación y configuración de aplicaciones en un session host
Laboratorio: Implementación y administración de perfiles de Azure Virtual Desktop (Azure AD DS)
Laboratorio: Empaquetado de aplicaciones de Windows Azure Desktop (AD DS)
Módulo 5: Supervisión y mantenimiento de una infraestructura de Azure Virtual Desktop
Planificación e implementación de la continuidad empresarial y la recuperación ante desastres
Automatización de las tareas de administración de Azure Virtual Desktop
Supervisión y administración del rendimiento y el estado
Laboratorio: Implementación del escalado automático en hosts pools (AD DS)

Open calls
03 Jul 2023 - 06 Jul 2023 |

AZ-140: Configuring and Operating Microsoft Azure Virtual Desktop

03 Jul 2023 - 06 Jul 2023 |

AZ-140: Configuring and Operating Microsoft Azure Virtual Desktop

18 Sep 2023 - 21 Sep 2023 |

AZ-140: Configuring and Operating Microsoft Azure Virtual Desktop

18 Sep 2023 - 21 Sep 2023 |

AZ-140: Configuring and Operating Microsoft Azure Virtual Desktop

16 Oct 2023 - 19 Oct 2023 |

AZ-140: Configuring and Operating Microsoft Azure Virtual Desktop

16 Oct 2023 - 19 Oct 2023 |

AZ-140: Configuring and Operating Microsoft Azure Virtual Desktop

18 Dec 2023 - 21 Dec 2023 |

AZ-140: Configuring and Operating Microsoft Azure Virtual Desktop

18 Dec 2023 - 21 Dec 2023 |

AZ-140: Configuring and Operating Microsoft Azure Virtual Desktop