COVID-19 NOTICE: All our courses in Online or Live Virtual Class format until further notice. More info at: training@pue.es




22 Nov 2021 - 26 Nov 2021 | Confirmed

Confirmed |

DA-100: Analyzing Data with Microsoft Power BI

22 Nov 2021 - 26 Nov 2021 | Confirmed

Confirmed |

DA-100: Analyzing Data with Microsoft Power BI

24 Jan 2022 - 28 Jan 2022 |

DA-100: Analyzing Data with Microsoft Power BI
Description
Los analistas de datos permiten a las empresas maximizar el valor de sus activos de datos mediante Microsoft Power BI. Como expertos en la materia, los analistas de datos son responsables de diseñar y construir modelos de datos escalables, limpiar y transformar datos y habilitar capacidades analíticas avanzadas que brindan un valor comercial significativo a través de visualizaciones de datos fáciles de comprender.
El presente curso impartirá todo el conocimiento y habilidades necesarias para poder trabajar de analista de datos. Primeramente se estudiarán los diversos métodos y mejores prácticas que están en línea con los requisitos comerciales y técnicos para modelar, visualizar y analizar datos con Power BI. También se enseñará a acceder y procesar datos de una variedad de fuentes de datos, incluidos los datos relacionales y no relacionales.
Este curso también explorará cómo implementar estándares y políticas de seguridad adecuadas en todo el espectro de Power BI, incluidos conjuntos de datos y grupos. Además, se analizará cómo administrar e implementar informes y paneles para compartir y distribuir contenido para, finalmente, mostrar cómo crear informes paginados dentro del servicio Power BI y publicarlos en un espacio de trabajo para incluirlos en Power BI.
Valor añadido de PUE
Con el objetivo de facilitar a nuestros alumnos los conocimientos previos recomendados por Microsoft para un correcto aprovechamiento de la presente formación se incluye, de manera totalmente gratuita en el coste del curso, el acceso al siguiente contenido oficial:
Además, si eres miembro del programa PUE Alumni, también tienes incluido de manera totalmente gratuita en el coste del curso, el acceso a:
También se ofrece, de forma gratuita para los miembros de PUE Alumni, el acceso al Practice Test de oficial de Microsoft de CertPREP Analyzing Data with Microsoft Power BI, una herramienta asociada a la presente acción formativa diseñada para que el alumno pueda ir acreditando sus conocimientos y realizar un adecuado seguimiento del curso
Audience and prerequisites
La presente formación está dirigida para profesionales de datos y de inteligencia de negocios (business intelligence) que deseen aprender cómo realizar análisis de datos con precisión utilizando Power BI. El curso también está enfocado a aquellas personas que desarrollan informes para visualizar datos de las tecnologías de la plataforma de datos que existen tanto en local como en la nube.
Prerrequisitos
Para un mayor aprovechamiento del curso, es recomendable que el alumno tenga unos conocimientos básicos de Azure equivalentes a haber realizado el curso Microsoft Azure Fundamentals.
Objectives
Una vez finalizado el curso el alumno habrá adquirido los siguientes conocimientos y habilidades:
Ingerir, limpiar y transformar datos
Modelar datos para rendimiento y escalabilidad
Diseñar y crear informes para el análisis de datos
Aplicar y realizar análisis de informes avanzados
Gestionar y compartir activos de informes
Crear informes paginados en Power BI
Certification included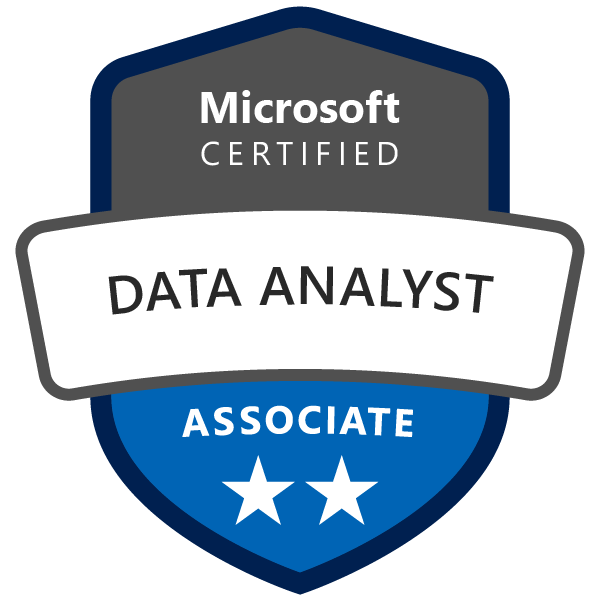 Este curso oficial es el recomendado por Microsoft para la preparación del siguiente examen de certificación oficial valorado en 245,63€ (IVA incl.), cuyo coste (una convocatoria) está incluido en el precio del curso para todos los miembros del programa PUE Alumni:
La superación de este examen es requisito imprescindible para obtener la certificación Microsoft Certified: Data Analyst Associate.
PUE es centro certificador oficial Pearson VUE facilitando la gestión del examen al candidato. El alumno podrá realizar su certificación, bien en nuestras instalaciones o, si lo prefiere, a través de la opción Online Proctored, que permite atender la certificación oficial de Microsoft desde cualquier ubicación con una simple conexión a internet.
Topics
Módulo 1: Introducción a Microsoft Data Analytics
Análisis de datos y Microsoft
Introducción a Power BI
Laboratorio: Primeros pasos
Módulo 2: Preparar datos en Power BI
Obtener datos de varias fuentes de datos
Optimizar el rendimiento
Resolver errores de datos
Laboratorio: Preparación de datos en el escritorio de Power BI
Módulo 3: Limpiar, transformar y cargar datos en Power BI
Dar forma a los datos
Mejorar la estructura de datos
Perfiles de datos
Laboratorio: Transformar y cargar datos
Módulo 4: Diseñar un modelo de datos en Power BI
Introducción al modelado de datos
Trabajar con tablas
Dimensiones y jerarquías
Laboratorio: Modelado de datos en Power BI Desktop
Crear relaciones modelo
Configurar tablas
Revisar la interfaz del modelo
Crear medidas rápidas
Laboratorio: Modelado de datos avanzado en Power BI Desktop
Configurar relaciones de varios a varios
Aplicar la seguridad a nivel de fila
Módulo 5: Crear medidas con DAX en Power BI
Introducción a DAX
Contexto DAX
DAX avanzado
Laboratorio: Introducción a DAX en Power BI Desktop
Crear tablas calculadas
Crear columnas calculadas
Crear medidas
Laboratorio: DAX avanzado en Power BI Desktop
Utilizar la función CALCULATE() para manipular el contexto del filtro
utilizar funciones de inteligencia de tiempo
Módulo 6: Optimizar el rendimiento del modelo
Optimizar el modelo para el rendimiento
Optimizar modelos de DirectQuery
Crear y gestionar agregaciones
Módulo 7: Crear informes
Diseñar un informe
Mejorar el informe
Laboratorio: Diseñar un informe en Power BI
Crear una conexión dinámica en Power BI Desktop
Diseñar un informe
Configurar campos visuales y propiedades de formato
Laboratorio: Mejora de los informes de Power BI con interacción y formato
Crear y configurar Sync Slicers
Crear una página de obtención de detalles
Aplicar formato condicional
Crear y usar marcadores
Módulo 8: Crear paneles
Crear un panel de control
Tableros en tiempo real
Mejorar un tablero
Laboratorio: Diseño de un informe en Power BI Desktop - Parte 1
Crear un panel de control
Anclar elementos visuales a un panel
Configurar una alerta de mosaico del panel
Usar preguntas y respuestas para crear un mosaico de panel
Módulo 9: Crear informes paginados en Power BI
Resumen de informes paginados
Crear informes paginados
Laboratorio: Crear un informe paginado
Usar el Generador de informes de Power BI
Diseñar un diseño de informe de varias páginas
Definir una fuente de datos
Definir un conjunto de datos
Crear un parámetro de informe
Exportar un informe a PDF
Módulo 10: Realizar análisis avanzados
Análisis avanzado
Información de datos a través de imágenes de IA
Laboratorio: Análisis de datos en Power BI Desktop
Crear gráficos de dispersión animados
Utilizar el visual para pronosticar valores
Trabajar con el árbol de descomposición visual
Trabajar con los elementos visuales de Key Influencers
Módulo 11: Crear y administrar espacios de trabajo
Creación de espacios de trabajo
Compartir y administrar activos
Laboratorio: Publicación y uso compartido de contenido de Power BI
Asignar principios de seguridad a roles de conjuntos de datos
Compartir un panel
Publica una aplicación
Módulo 12: Administrar conjuntos de datos en Power BI
Parámetros
Conjuntos de datos
Módulo 13: Seguridad a nivel de fila

Open calls
22 Nov 2021 - 26 Nov 2021 | Confirmed

Confirmed |

DA-100: Analyzing Data with Microsoft Power BI

22 Nov 2021 - 26 Nov 2021 | Confirmed

Confirmed |

DA-100: Analyzing Data with Microsoft Power BI

24 Jan 2022 - 28 Jan 2022 |

DA-100: Analyzing Data with Microsoft Power BI

24 Jan 2022 - 28 Jan 2022 |

DA-100: Analyzing Data with Microsoft Power BI